Jury acquits Larry Cirignano!
Doesn't buy absurd "assault and battery" charges, despite rhetoric by ACLU and homosexual activists. Trial was waste of public money by District Attorney.
Civil rights charges already thrown out by judge last week.
A VICTORY IN COURT! Defeat for ACLU and homosexual activists!
A jury of three men and three women acquitted Catholic activist Larry Cirignano of the remaining assault and battery charges stemming from a pro-marriage rally last December. The civil rights charges against him had already been dropped by Judge David Despotopulos last week in the face of overwhelming evidence in Larry's favor.

This represents a huge victory not only for the pro-family movement, but for justice in America. The charges against Larry clearly represented the homosexual movement - and ACLU - attempting to bully and punish an innocent individual who disagreed with them. It was also a shameful and odious action by the City of Worcester and District Attorney Joseph Early, Jr. to placate the powerful lobby that has given much money and help to the Democratic Party.

But when it was finally examined in a courtroom with witnesses, cross-examination, and video, the entire case against Larry Cirignano collapsed.
See our day by day account of trial, plus
background information on case.

The jury was selected on Tuesday, Oct. 16 and the trial began Wednesday. On Friday afternoon the jury began deliberating and went home for the weekend at 4 p.m. At 9 a.m. Monday morning they reconvened. At 11:30 a.m. the jury appeared to be deadlocked, but at 1 pm they came out with a unanimous verdict of not guilty.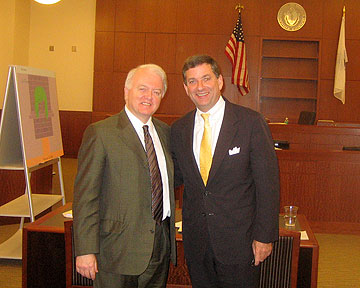 On Saturday morning, Dec. 16, 2006, Larry Cirignano was helping run a peaceful pro-traditional marriage rally on the steps of Worcester City Hall. They had a legal permit to use the area for the rally. But dozens of homosexual activists converged on the area in order to disrupt it, many holding signs and screaming vulgar chants and obscenities.

Several Worcester police officers were at the scene, but - as they testified at the trial - they made no efforts to keep the homosexual activists from going into the rally area to disrupt it. All the police did, as they admitted, was keep the sidewalk clear for passersby.

During one of the speeches, Sarah Loy, and ACLU board member and pro-homosexual "marriage" activist, came in and stood in front of the podium, facing the crowd. She held a homosexual-marriage sign and taunted the crowd, chanting. Several people asked her to leave, but she refused. So Larry (who has been trained by the Secret Service in crowd control for these types of events) walked up and gently led her to the side using one arm, carrying his valise in the other.

When Loy reached the edge of the crowd, Larry began walking away. But as Loy made her way through the crowd she fell to the ground. Then she started screaming and chanting "That's what hate does!" and proclaimed that Larry had pushed her to the ground.

The police talked with Loy and her cohorts and later charged Larry with assault and battery. (Interestingly, they only talked to "witnesses" from the pro-homosexual side.) Newspapers across the state reported that Larry had run up, grabbed Loy with both hands, and threw her to the ground.

Later, District Attorney Joseph Early, Jr. and the City of Worcester determined that Loy had a "constitutional right" to be where she was and filed a civil rights charge against Larry, for allegedly violating Loy's First Amendment rights of free speech! It was like something out of "1984".

This case has become a cause celebre in the homosexual movement across the country, as they've attempted to demonize Larry and others in the pro-family movement.

The ACLU was also heavily involved in the case and during the trial. Ronal Madnick, a prominent ACLU attorney, was at the entire trial and huddled with the prosecutor, Assistant District Attorney Joseph Quinlan, frequently at breaks. And Sarah Loy was on the Board of Directors of the ACLU.

Disrupting a public meeting is against Massachusetts Law. However, the judge did not allow the jury to be given that information.

But in the trial, the case against Larry completely fell apart. First, after listening to the District Attorney's twisted reasoning about the First Amendment violation, the judge threw out the civil rights charge. From a constitutional law standpoint, it made no sense. (Loy even stated that she believed she had a constitutional right to break in and interrupt the rally speeches with her own rantings.)

Then, after several witnesses testified, it became clear that Loy had not been pushed by Larry at all. Instead, Loy had tripped over the foot of a thirteen-year-old girl standing in the crowd, after Larry had walked away. The girl testified, her mother testified, another girl standing nearby testified, and several others. Even the prosecutor was forced to give up that argument.

Even Loy's claim that she had hit her head on the ground was debunked by witnesses who testified they saw her land on her buttocks, break her fall with her hand, look around for a second, and then l lie down in a fetal position and scream.

A number of pro-homosexual "witnesses" came to testify that they "saw" Larry push Loy down. But one by one, as they were cross-examined by Defense Attorney Michael C. Gilleran, their stories ended up having big holes. When pressed, most of them admitted didn't "really" see Larry push anybody. And a video taken of the general area at the time of the incident showed that many of them weren't anywhere near where they said they were.

So in the end the "assault and battery" charge came down to about ten seconds and five feet: When Sarah Loy was standing in front of the podium holding her gay-marriage sign and screaming at the marriage rally crowd, Larry used his forearm (gently) to lead her to the side. That's it. And the Commonwealth of Massachusetts claimed that Larry Cirignano should have been convicted of assault and battery over that. But the jury obviously had had enough and did the right thing.

God Bless Larry Cirignano for standing up to all this, not wilting, and not backing down.

(And shame on a lot of Larry's "friends" who deserted him when the going got rough. They know who they are. It's too bad Larry felt he had to resign from his job, now that he's been proven innocent.)

Some final thoughts
There's something terribly wrong with the enormous energy and expense that our government has expended to try to convict Larry Cirignano for this incredibly insignificant act -- which happened while Larry was essentially under siege holding a peaceful rally. It's completely out of proportion. And given our overcrowded and overworked court system that way too often can't fit in legitimate cases, one must seriously question why this absurd trial was taking place at all.

One can't help having the blunt feeling that this a payback by District Attorney Joseph Early to a powerful lobby that has provided considerable funding and resources to the Democratic party. To the homosexual community this trial has enormous political importance. Larry Cirignano and the pro-marriage movement is their main demon, which they psychologically need to defeat soundly and silence.

At the courthouse this week, as one looked around it was clear that Assistant District Attorney Joseph Quinlan and the police were working very closely with the homosexual activists and the ACLU, and were even fraternizing with the weird homosexual bloggers who slithered in and out of the courtroom. At the same time, they would barely acknowledge any pro-family people, and the body language toward us was clearly hostile. It almost looked comical at some points.

How much money has completely absurd four-day trial cost the Commonwealth of Massachusetts, the lawyers, and everyone else. Fifty thousand dollars? A hundred thousand? More? Is this how the taxpayers want their money spent?
And as C.J. Doyle observed, "In seventeen years they haven't prosecuted a single homosexual activist that's disrupted a Catholic church or religious event. It's about time that started."

Don't believe what you read in the papers . . .
The Worcester Telegram-Gazette's report - the sad state of our media.

Below are the "facts" by Worcester Telegram-Gazette reporter Richard Nangle published this account of the incident on Dec. 17, 2006, the day after it happened. Nangle got a lot of mileage touting himself as an expert on what happened. In the trial, Nangle testified that he was a witness to Larry pushing Loy. But a person who knows Nangle personally testified that Nangle was standing at least 20 feet away from where he said he was. Who do you believe?
Worcester rally takes ugly turn
Gay marriage backer pushed
By Richard Nangle TELEGRAM & GAZETTE STAFF
rnangle@telegram.com
Sunday, December 17, 2006

WORCESTER- Tempers boiled over at an anti-gay marriage rally yesterday when the executive director of the Boston-based Catholic Citizenship emerged from behind a lectern outside City Hall, rushed toward a female counter-demonstrator, and pushed her to the ground.

Sarah Loy, 27, of Worcester was holding a sign in defense of same-sex marriage amid a sea of green "Let the People Vote" signs when Larry Cirignano of Canton, who heads the Catholic Citizenship group, ran into the crowd, grabbed her by both shoulders and told her, "You need to get out. You need to get out of here right now." Mr. Cirignano then pushed her to the ground, her head slamming against the concrete sidewalk.

"It was definitely assault and battery," said Ronal C. Madnick, director of the Worcester County Chapter of the American Civil Liberties Union of Massachusetts. Police interviewed Mr. Madnick and several others moments after the incident.

As Ms. Loy lay motionless on the ground, crying, Mr. Cirignano ran back behind the lectern, where moments before he had opened the afternoon rally by leading a recitation of the Pledge of Allegiance. . .

Read entire article here:
... This is what we're up against.
Thanks to EVERYONE who supported Larry throughout this ordeal!!