MassResistance Reports: Drag Queen Story Hours
MassResistance "Drag Queen" victories continue as parents make a difference!
11/7/19 In city after city Drag Queen events are stopped and their perpetrators are pushed back.
How to take on a hostile media interview about "Drag Queens" in libraries, the homosexual lifestyle, and more.
10/27/19 A bare-knuckle radio debate: Far-left radio host vs Arthur Schaper of MassResistance. Here's what happened.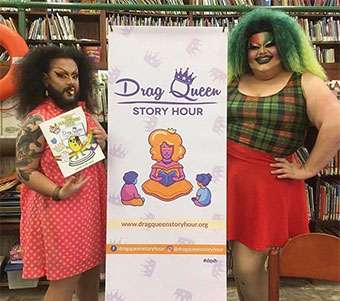 LABEL
10/24/19
Where it comes from and how they make it happen: The American Library Association is the radical force behind the scenes. But there's even more.
City Council members attack parents over opposition to Drag Queens in library. Parents return and lash back! (See video.) [Chula Vista, CA]
10/18/19 - Part 2 of 2 - Mayor and Council member publicly side with anti-Christian LGBT mob.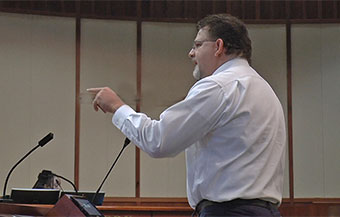 LABEL
10/12/19
Part 1 of 2: Incensed at politicians who refuse to follow wishes of community. See video! Parents are no longer afraid of LGBT intimidation!
San Diego MassResistance confronts anti-Christian bigotry over Drag Queen event
10/4/19 Screaming crowd includes "gay" City Council member. Pro-family parents stand up to intimidation - see photos!
MassResistance debates LGBT group "Equality Nevada" over Drag Queen Story Hour, on Las Vegas radio station
9/14/19 Pulling no punches: THIS is how you take on this radical lobby! Local "Drag Queen" performer exposed by MassResistance as crude adult entertainer.
California church vandalized for opposing "Drag Queen Story Hour" in local public library
9/9/2019 Satanic messages painted on church walls hours before Sunday morning service. Opposition to event ignited by MassResistance!
San Diego MassResistance launches full-court press to stop local Drag Queen Story Hour!
9/8/2019 Local residents hold powerful press conference-causing local media firestorm! As a result, Also: picketing, leafletting, and confronting LGBT activists
Another victory: Texas city stops 'Drag Queen Story Hour' after MassResistance pressure
8/25/19 City Council also votes to require background checks for people presenting to children in library.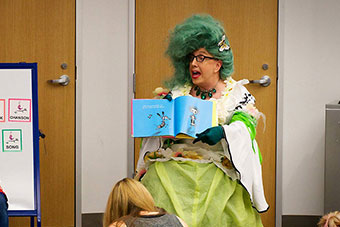 LABEL
8/20/19
Has been reading books to young children in library - with no background check. Defended as "role model" by public officials.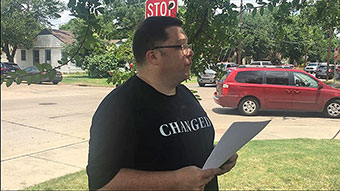 LABEL
7/22/19
Freed from bondage by Christ. He is now head of the MassResistance Dallas chapter helping parents and families fight back!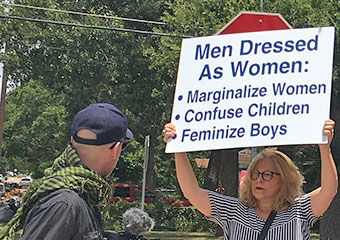 LABEL
7/19/19
Fighting organized effort to harm children. Parents not afraid to tell it like it is!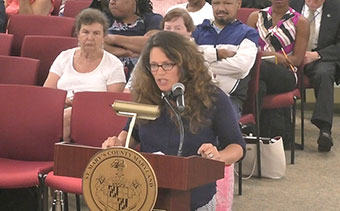 LABEL
7/13/19
"Drag Queen" in Maryland library exposed by MassResistance: He runs lurid sex-oriented businesses, posts x-rated photos of men on social media.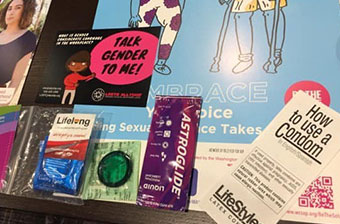 LABEL
7/3/19
Exposed by WA MassResistance mothers. Kids given materials for homosexual sex, transgender body mutilation, drag queens, and much more.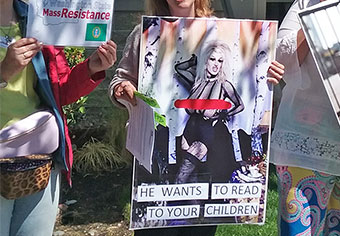 6/29/19
Depraved event also promoted to children by local elementary school! Parents NOT afraid of pro-LGBT counter-protesters!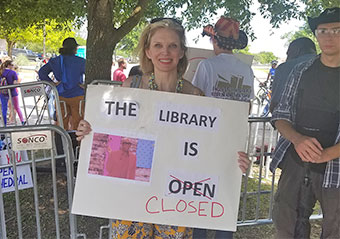 6/21/19
Local Antifa group backs down and stays away from pro-family protest. In Leander, TX another big win in the "Drag Queen Story Hour" wars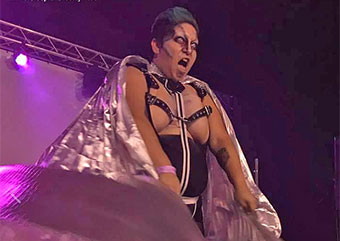 6/12/19
But it's not over - local pro-LGBT church has rented a library room to put on the same event. Battle has now made national news!
Another 'Drag Queen' exposed as child sex offender!
Houston MassResistance exposes more horror: 2nd public library "Drag Queen" is convicted child sex offender - and a transgender prostitute specializing in BDSM. 4/22/19
Houston MassResistance "Drag Queen Story Hour" exposé goes international!
Reported in media across the US – to the UK and Russia. Tweeted by Governor of Texas. A registered child sex offender was reading to children in public library – sadly not surprising. Coverage reveals pent up outrage across the country over powerlessness to stop the LGBT agenda targeting children. 3/19/19
Houston MassResistance exposes "Drag Queen Story Hour" cross-dresser as registered child sex offender!
Library officials forced to apologize to public.TV media coverage of press conference shocks Houston. 3/16/19
How the Houston politicians & library officials caved in to Mass­Resistance parents
(Part 3) This is how real pro-family activism works! Pounding them with the horrors and corruption of the "Drag Queen" event. Videos. 3/3/19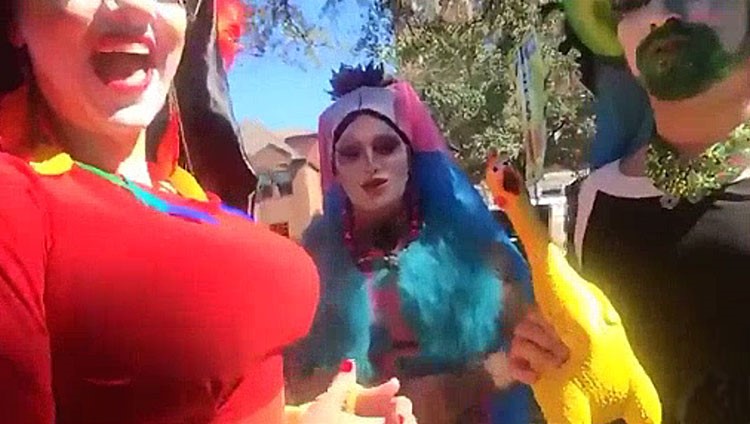 Houston MassResistance Drag Queen Exposé – 163 pages with 18 exhibits. CAUTION: several graphic images and descriptions. Feb. 2019
Houston MassResistance parents confront the library - on the way to "Drag Queen Story Hour" victory
(Part 2) LGBT activists, corrupt library officials, and even police try to stop the parents. 2/27/19
Houston MassResistance activists have a "Drag Queen Story Hour" victory against huge odds
(Part 1) Up against aggressive pro-LGBT politicians and deranged LGBT activists. After months of battling: In the City Council chambers, in the streets outside of public library, and beyond. 2/24/19
MassResistance protest causes huge upheaval in Detroit suburb over "Drag Queen Story Hour"
Hundreds of loud LGBT activists converge outside building to support degenerate event targeting children - and intimidate pro-family people. 1/28/19
Detroit suburb to barricade streets over Mass­Resistance's upcoming Jan. 26 protest of Drag Queen Story Hour at library!
Bringing in police from nearby towns to guard library – from citizens who disagree. Washington Post weighs in on controversy. 1/25/19
Colorado MassResistance helps town confront "Drag Queen Story Hour" in local library
LGBT activists came in to intimidate and harass local parents. Library director attacks MassResistance for helping parents! 1/18/19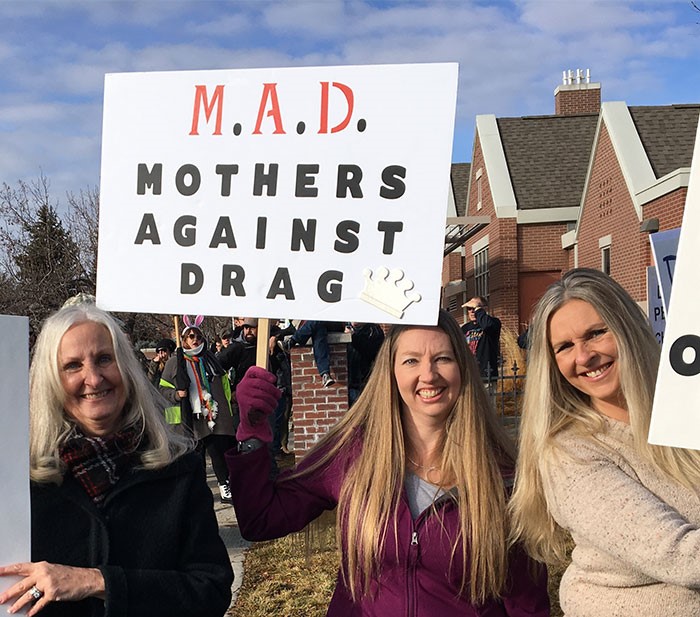 Michigan MassResistance ignites media firestorm over opposition to "Drag Queen Story Hour" in Detroit suburb
Town forced to move its City Commission meeting to gymnasium because of uproar. MassResistance parents make huge statement in a liberal suburb! 12/30/18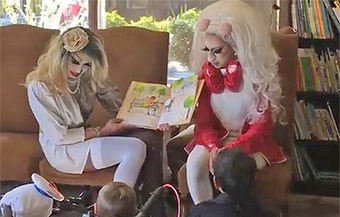 MassResistance fight against 'Drag Queen Story Hour' targeting children goes national
Our activism in New York, Alaska, & Michigan. Public officials and media are taking notice and reacting. 12/12/18
MassResistance confronts "Drag Queen Story Hour" in Riverside, California
VIDEO of a mother in action! Cross-dressers out to disrupt the minds of a generation of children. 12/5/18
Georgia MassResistance stops "Drag Queen Story Hour" at Atlanta library!
The pressure from activists, parents, and local citizens worked! In a "very pro-gay" part of the city. 10/5/18
Please help us continue to do our uncompromising work!
Your support will make the difference!