Rebutting the outrageous attack ad against Scott Lively
POSTED: Nov. 21, 2011
On Sunday Nov. 13, 2011 the following ad appeared in the local Springfield, Mass., newspaper, The Springfield Republican. It is an outrageous attack on Pastor Scott Lively, which falsely charges him with a list of various "hate" crimes. It includes the names of over 250 people, most of which are untraceable and appear to be made up.
The group "Occupy Springfield" has acknowledged that they produced and paid for the ad. And they've reiterated their intent to drive Lively's Christian ministry out of town.
See our rebuttal below the ad.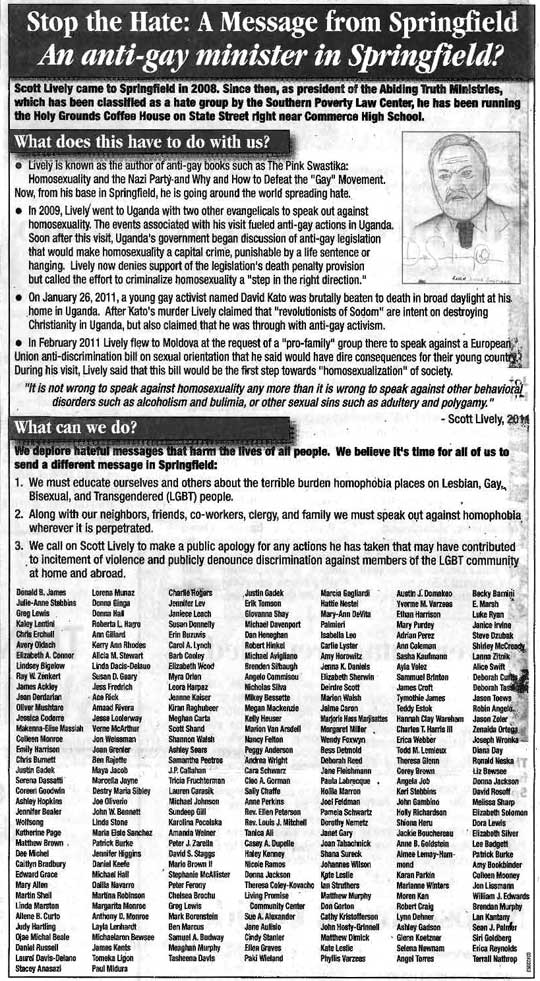 The statements against Pastor Lively made in the ad — and the truth:


"Scott Lively came to Springfield in 2008."
That's technically true, but he is by no means an "outsider." Dr. Lively was born in Shelburne Falls, MA, and his family has lived in the region since the 1600s.
"Since then, as President of Abiding Truth Ministries, which has been classified as a hate group by the Southern Poverty Law Center, has has been running the Holy Grounds Coffee House on State Street right near Commerce High School."
The Southern Poverty Law Center (SPLC) is an extremist far-left organization that has been debunked across the political spectrum. No one except liberals takes them seriously. Their absurd "hate group" list includes over a thousand pro-family, Christian, mainstream anti-illegal immigration groups, MassResistance, and even the Tea Party movement — and also individuals such as Glenn Beck, Judge Andrew Napolitano, and US Reps. Ron Paul and Michele Bachmann. In each case, the only "crime" is publicly disagreeing with the SPLC's political agenda. See our report here.
The fact that the coffee house is near the high school has made it an oasis for many local families from the hostile anti-Christian influences there.
"Lively is known as the author of anti-gay books such as The Pink Swastika: Homosexuality and the Nazi Party and Why and How to Defeat the 'Gay' Movement."
These books are considered scholarly and useful sources of information across the country. The fact that the homosexual movement doesn't like them, however, is not surprising.
"Now from his base in Springfield, he is going around the world spreading hate."
This is the usual infantile way that the left expresses itself. It's offensive that the Springfield Republican would allow something like this in a political advertisement.
"In 2009, Lively went to Uganda with two other evangelicals to speak out against homosexuality. The events associated with his visit fueled anti-gay actions in Uganda. Soon after this visit, Uganda's government began discussion of anti-gay legislation that would make homosexuality a capital crime, punishable by a life sentence or hanging. Lively now denies support of the legislation's death penalty provision but called the effort to criminalize homosexuality a 'step in the right direction.'"
What they're not telling you: When Lively went to Uganda at the invitation of government leaders to discuss the homosexual issue, he recommended rehabilitation rather than punishment, and told them he is opposed to capital punishment. However, he said he supports their interest in taking the problem seriously, unlike in many Western countries.
"On January 26, 2011, a young gay activist named Donald Kato was brutally beaten to death in broad daylight at his home in Uganda."
What they're not telling you: Donald Kato was murdered by a homosexual male prostitute whom he had bailed out of jail and brought into his home as a live-in sex partner. When Kato wouldn't agree to the prostitute's demands for money, he brutally beat Kato to death, and subsequently confessed to police.
The homosexual movement shamelessly and dishonestly attempts to connect this to the Uganda statutes on homosexuality, which is absurd.
"After Kato's murder Lively claimed that "revolutionists of Sodom" are intent on destroying Christianity in Uganda, but also claimed that he was through with anti-gay activism."
That quote from Lively had no connection to Kato's murder. But it was a reasonable observation given the scope of the homosexual activist ism there.
Lively didn't say he was "through with anti-gay activism." He said -- as he's always said -- that his Christian ministry in Springfield was not focused on the homosexual issues. Instead, it's the activists who insist on focusing on it. He's trying to put his energy into Christian evangelism. (But he's certainly not running away from it.)
"In February 2011 Lively flew to Moldova at the request of a 'pro-family' group there to speak against a European Union anti-discrimination bill on sexual orientation that he said would have dire consequences for their young country. During his visit, Lively said that this bill would be the first step towards "homosexualization" of society."
This is true. And he's correct.
"It is not wrong to speak against homosexuality any more than it is wrong to speak against other behavioral disorders such as alcoholism and bulimia, or other sexual sins such as adultery and polygamy."
- Scott Lively, 2011
This is true, also. And of course he's correct.
A final note: It's interesting that the "Occupy" group published this incendiary attack ad, but was too cowardly to identify itself or who paid for it. And the newspaper for some reason didn't require that information on the advertisement, though that is the custom (and in some cases the legal requirement) for political advertising.