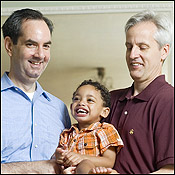 Newton couple honored as 'Parents of the Year' by DSS
By Jennifer Roy/ Daily News Tribune
Newton, Massachusetts
Wednesday, August 9, 2006
James Bryant and Stuart Sadick were heartbroken when they learned that after a year and a half of caring for their foster child - a baby seized from his drug-addicted mother - they might have to give him up.
Christian was three months premature and weighed 2 1/2 pounds when was taken into custody by the Department of Social Services three years ago.
Bryant and Sadick were married in June 2004 and had discussed becoming parents early in their relationship. They had even been completed a DSS parenting class.
"We thought about fostering children and adoption, and decided we were intent to adopt through DSS," Sadick, 50, said.
Bryant said the couple completed the training in summer of 2003 and were contacted about Christian the following October.
"You finish the training and then wonder, 'Where's my child?'" he said. "It seems like a long time."
But Christian was not legally free for adoption. His birth parents and their families were fighting to keep the baby, and DSS was working with them to make sure that happened, Bryant said.
"Our plans to adopt a legally free child went out the window once we met Christian," he said. "I was a goner after three days of holding him."
The couple had been expecting to adopt an older child, but brought the infant into their Fairmont Avenue home when he was just about 4 months old.
"Christian was not legally available, but he needed a foster home," Sadick said.
While they were foster parents, Bryant - a stay-at-home dad - brought Christian for weekly visits with his birth parents at DSS in Chelsea.
Then, Christian's birth mother "was able to start getting her life together," and the couple thought they would have to give Christian back.
Sadick said there were several hearings regarding Christian's fate, but, a year ago, the couple worked out an open adoption agreement in which Sadick and Bryant take Christian to see his birth parents every couple of months.
"I get a kick out of seeing him with his birth mother and father. It's clear they love him very much," Sadick said. "He's a pretty strong little guy. He recognizes and knows them, but doesn't know yet who they are."
Christian is now a curious, wide-eyed 3-year-old who likes to feast on hard-boiled eggs and French fries and who calls his parents Daddy James and Daddy Stuart.
Bryant said his exuberant son "has a way of making friends and of making people feel good."
Bryant and Sadick, who met in Provincetown 17 years ago, were recently honored by DSS as two of their Adoptive Parents of the Year.
"We were surprised and honored," Sadick said.
He said the day after Christian's adoption was finalized, DSS officials approached the couple about adopting a second child.
Their families would like them to bring a little girl into their home, Bryant said.
"There are times at 3 a.m., I realize why most people have children in their 20s," said Bryant, 46.
Sadick said the couple simply wants to enjoy the time they spend with Christian right now, but will consider adopting an older child through DSS in the future. They are nervous, however, at the possibility of almost losing another child.
"There were times when we wanted to scream," Bryant said.
Sadick, a headhunter, said he and Bryant will always be open with their children about how they became a family.
"They have a need and a right to know their birth family, if possible," he said. "They will know they are adopted and they will know they are loved."
Said Bryant of their story so far, "it has such a happy ending."