President of supermarket chain sends letter to parents: we'll continue to support anti-Christian homosexual school play because some people like it.
The President of a Massachusetts supermarket chain has taken a stand in support of a violent, profane, anti-Christian school play that celebrates the homosexual lifestyle. "The Laramie Project," is being performed this weekend at Acton-Boxborough High School. It presents a message to its audience that Christians with traditional moral values toward homosexuality are hateful, bigoted, and likely murderers. It's pretty chilling stuff if you're a Christian in that town these days. Already, kids in the school are wearing their "erase hate" bracelets (given out by the play's pro-homosexual promoters) and repeating the play's messages among themselves.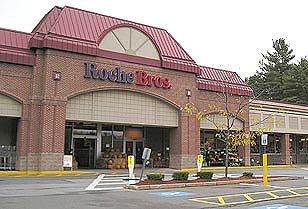 For weeks, people have been asking Roche Bros. not to support the play by selling tickets in its Acton store. Parents personally came in and met with the manager of the Acton store, and recently with executives at their corporate headquarters in Wellesley. The parents showed them extensive documentation about the play and its destructive and offensive nature -- and described how fearful and intimidating it all was. One Roche Bros vice president, Gary Pfiel, seemed visibly moved and said that he hopes his own children aren't exposed to those things.
But Pfiel did nothing and immediately stopped returning calls. The Acton store manager, Jim Myers, rudely told parents who appealed to him, "I don't care. I'm not going to listen to you. Now some parents have started getting this letter from Roche Bros. president Ed Roche:
Dear Mrs. XXXX,

Thank you for shopping in our Acton Store and for your comments in your letter.

Roche Bros. has sold tickets to Acton Boxborough Regional High School Drama Productions for several years, as one of the many ways we support the schools in the communities we serve. I wanted to let you know that upon receipt of your letter, we looked into the ABRHS production of "The Laramie Project". I garnered from your letter what your personal feelings are regarding this particular play. I have also learned that we have customers who are supportive of the production. I hope you can understand that our intention is to neither offend nor exclude any ofour customers. As purchase of the tickets is optional, we will continue to offer them for sale to any of our customers who wish to buy them.

I appreciate the time you took to write to us, and I value your opinion. You are very important to us, and we look forward to the privilege of serving you for many years to come.

Sincerely,
Ed Roche
President & COO
One can't imagine treating an upset ethnic group that way. But it's open season on religious conservatives. (Keep in mind that the materials about the play were delivered to Roche and shown to his staff.) Roche's interesting logic is that since some people in the community SUPPORT the anti-Christian homosexual play, he does not want to exclude or offend them. So his store will continue to support the play by selling tickets. If you don't like it, you don't have to buy the tickets.
The staff that answers the phone at the corporate headquarters has also developed a bit of an arrogant attitude. "We're just doing a community service," callers are told. "And you're one of the few people to complain." (Sounds like they've borrowing the line that schools use to parents.)
Would Roche sell tickets to a play about pedophilia? If his liberal friends liked it, he probably would. That's the condescending, even hostile mindset of these people have toward those of us with traditional values. We've see it all too much these days. And he gets away with it because not enough people like us willingly take it, and don't talk back to him.
Ironically, at the top of his letter is store's motto" "Your family deserves the best." The best religious bigotry?
One thing's for sure. We won't ever set foot in a Roche Bros (or Sudbury Farms) store again. How about you?
Keep in mind that major businesses will continue to do this until YOU decide you've had enough.
Make a phone call. Let Ed Roche know what you think of his condescending attitude toward your religious beliefs. And let him know he'll never see you in any of his stores.
Ed Roche - President & CEO - 781-235-9400

Also: Jim Myers, manager of Action store - 978-263-0404

Email Roche Bros

Roche Bros. Supermarkets, Inc.
Corporate Offices
70 Hastings St
Wellesley, MA 02481-5439
http://www.rochebros.com

MassResistance report on The Laramie Project at Acton-Boxborough High School