Save the NEW date: Change of date (and price) for Mass­Resistance Banquet - now a Luncheon! More convenient to attend.
OLD DATE: Thursday evening April 6
NEW DATE: Sunday afternoon April 9 (luncheon)
Price lowered from $75 to $40
Still featuring the same blockbuster presentations by Dr. Paul Church and Brian Camenker
February 19 2017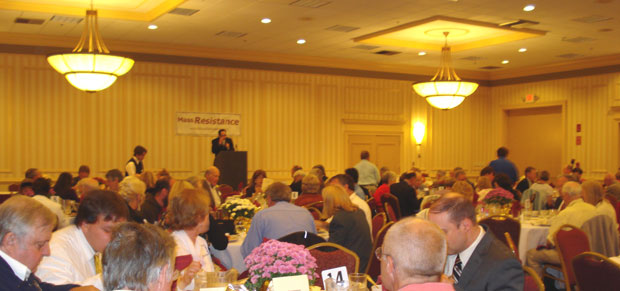 As we wrote in our last post, because of all the recent upheavals in the "culture war" battleground and the vicious attacks from the organized Left against the new Administration and conservatives in general, we've decided to have an event for activists & supporters in April instead waiting until later. We believe it's very important that the pro-family movement needs to begin reacting to the new battles!
We had scheduled this for a Thursday night. But after we announced it, a lot of people said they preferred not to have to rush from work and fight the weeknight rush-hour Boston traffic to get to Boxborough. Well, we can't blame them. We want people to be relaxed. (And in fact, we've usually had our banquets on weekends.)
So we were able to change it to a luncheon on the following Sunday. And we decided to make it more affordable, so we've lowered the price from $75 to $40. (It's still going to be a great meal!)
The speakers:
Dr. Paul Church: "The Great Lies and the Cost of Telling the Truth: How medical evidence is being suppressed and censorship is being enforced in our major hospitals regarding the unhealthy behaviors of homosexuality - and the effect on our society."
Dr. Church is a urologist and an Assistant Clinical Professor of Surgery on the faculty of Harvard Medical School. As we have reported, he has been harassed and even fired from a major hospital because of his unwavering medical principles. You'll hear the shocking story of what's happening in today's medical profession.
Brian Camenker: "The Culture War: Understanding what is happening now in America and worldwide - and what pro-family people can do to have a big effect."
Bringing you up to date on the battles before us
As at our other events, you will have a chance to meet and share experiences with other activists and supporters!
You will become uniquely informed about the culture war as it stands right now, and where it's going. MassResistance now has chapters from California to Maine and in three foreign countries, so we see what's happening from many perspectives. We literally talk with people all over the world. This will be an educational afternoon!
We are in a psychological and spiritual war. Now more than ever (as Pope John Paul II observed about the toppling of the Soviet Union) a major factor in confronting a totalitarian force is people losing their fear and being willing to tell the politically incorrect truth in public.
The cost is only $40 per person -- not $75-$150 as other pro-family groups often charge. (We are also working on making this presentation available for those who can't make it to the Boston area.)
Also: Special discount for new book, The health hazards of homosexuality.This is an important tool that people have needed for a long time.


Don't be left out. Get your tickets today!
Event: MassResistance Luncheon
Date: Sunday, April 9, 2017
Time: 12:30 pm - Lunch served 1:00 pm
Where: Boxborough, MA (We'll send you the address & directions)
Cost: $40 per person. ($300 for a table of 8)
How to reserve your seat:
Mail a check to: MassResistance, PO Box 1612, Waltham, MA 02454
Or by credit card: Call our office during the day at: 781-890-6001
Please buy your tickets by March 31 so we have a count for the food. For more information email us back or call our office.
We hope to see you there!